Chiropractor Michael Emery D.C.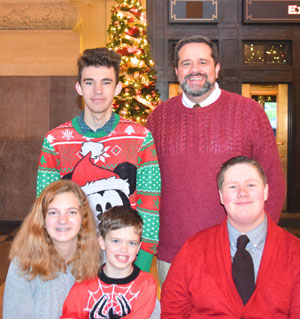 Dr. Michael Emery graduated from Cleveland Chiropractic College with his Doctorate of Chiropractic degree in 1998. He grew up in the Kansas City area. Dr. Emery grew up in chiropractic. His Father, Mother and two of his sisters are chiropractors. His brother is a Medical Doctor and a sister manages a chiropractic clinic. He attended the University of Kansas in Lawrence, where he obtained a bachelors degree in Fine Arts.
Dr. Emery is certified in Diversified, Thompson Drop, Flexion Distraction, Sacro-Occipital Technique and Activator techniques. He believes that chiropractic care is essential for every person, young and young at heart, as a preventative form of healthcare. By integrating his education and various techniques, he has the ability to help the body function at its full capacity, decreasing pain and further preventing future symptoms and illness.
Dr. Emery's mission is to help create better health for the entire family through treatment and education. He believes that a holistic approach allows the body to heal itself by removing interference to the nervous system caused by misalignments of the spine. Whether you are in constant pain, experience occasional headaches or are just wanting to take a proactive approach to your health, Dr. Emery is here to help you! Please call for your FREE consultation today so that Dr. Emery can explain how chiropractic care will benefit you.
Dr. Emery and Barry Road Chiropractic are proud supporters of The Kansas City Humane Society and The City Union Mission.
---
MASSAGE THERAPIST CHRISTI
OFFICE HOURS
---
Monday
9:00am - 12:00pm
2:00pm - 6:00pm
---
Tuesday
Closed
---
Wednesday
9:00am - 12:00pm
2:00pm - 6:00pm
---
Thursday
Closed
---
Friday
9:00am - 12:00pm
2:00pm - 6:00pm
---
Saturday
9:00am - 12:00pm
---
Sunday
Closed